New Plans
I am interested in creating/reviewing my Retirement Plan Strategy
Whether this is your first time seeking a Retirement Plan Strategy or you'd like an updated plan, you've come to the right place!
6 Steps to Success!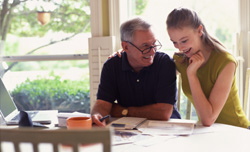 1. The Beginning! It starts with a meeting where we discover what your goals are - for example: When do you want to retire and how much will you need in retirement to make ends meet? If you're not sure what your goals are, don't worry! We can help you through the process of identifying your goals. If they change in the future, no problem, we'll just update your plan!
2. Next we do an analysis! This is where we identify what it will take to get you from where you are now to where you want to be. It will show you how on track you are with your goals. If you don't like the results, we can show how changing your retirement date, your savings rate or your income needs impacts the overall plan.
3. Time for details! Once we settle on our overall approach to your goal, next we identify the specifics. This is where we discuss what you should consider investing in to accomplish your goals. When we finish this step, you'll feel like you have a Financial GPS that's guiding your through retirement.
4. Protecting the Plan. Once we put together the plan, we want to review strategies for protecting it. This could include a review of your insurance coverages, or maybe it's a matter of making sure you have a sufficient emergency fund. When you're finished with this step, you'll be better aware of how different life scenarios may impact your plan.
5. Legacy Planning. What happens to your assets after you've moved on? Better yet, what do you WANT to have happen to your assets? Some clients want to accomplish goals after they're gone - whether that be a college fund for a grandchild or identifying a charity. We all have a plan for assets after we're gone - it's either dictated by us or the state. If your priorities are different than the state's, it's best to make sure you create a plan.
6. Reviews! After completing this process and choosing what to implement, we'll make certain to review everything on a regular basis. As you move through life, your circumstances and life needs will change - if we make minor adjustments on the way, you'll always be on track!
Keep in mind, while we'll discuss the topics mentioned above, we likely will work with other professionals to make sure all your needs are met. We happily work with other trusted experts you may already have.
If this sounds like a process that fits you, contact us for an appointment! Introductory meetings are always complimenatary. We're happy to meet with you to go over this process in more detail and to explain what you can expect when working with us.
Are ready to create your Financial GPS?